No. 3
To promote safety through the prevention of accidents, injury, or other trauma and through the prevention of the spread of infection
By: Raymart Miguel Matabilas
For registered nurse Kimberly Hiatt, the horror began last Sept. 14 2011, the moment she realized she'd overdosed a fragile baby with 10 times too much medication. Stunned, she told nearby staff at the Cardiac Intensive Care Unit at Seattle Children's Hospital what had happened. "It was in the line of, 'Oh my God, I have given too much calcium,'" recalled a fellow nurse, Michelle Asplin, in a statement to state investigators. In Hiatt's 24-year career, all of it at Seattle Children's, dispensing 1.4 grams of calcium chloride — instead of the correct dose of 140 milligrams — was the only serious medical mistake she'd ever made, public investigation records show. She committed suicide in April 2011, seven months after accidentally overdosing a fragile baby. – MSNBC.com
Safety is as simple as ABC - Always Be Careful.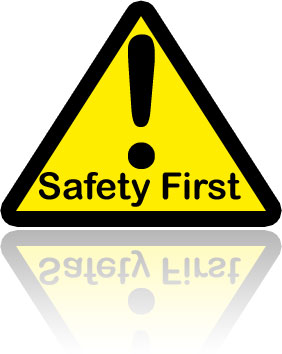 Patient safety is a new healthcare discipline that emphasizes the reporting, analysis, and prevention of medical error that often leads to adverse healthcare events (Wikipedia). So what safety can do to us? The benefits of maintaining a safe environment are many, but first and foremost, safety is about what you can do to protect your patients. It plays a vital role in our health care system and it absolutely defines quality health care. As the primary caregivers in hospitals, we as nurses are best positioned to improve quality and patient safety. It is a fundamental concern of nurses, which extends from the bedside to the home to the community. So how do we basically promote patient safety? According to the 3

rd

typology of Abdellah's 21 typology of Nursing problems, we can promote safety through the (1) prevention of accidents, injury and and other trauma, and (2) through the prevention of the spread of infection.
Prevention of accidents, injury and other trauma.
Know safety, no injury. No safety, know injury.
"Keep that away from children – that's Risk for Poisoning; Avoid small toys – that's a Risk for Aspiration; Don't forget to raise the side rails – that's Risk for Fall", these are common reminders given by our clinical instructors during our hospital duties back in academic days. In line with this, when we're asked what's the most commonly used nursing diagnosis when planning care for the patient, is definitely Risk for Injury. It's a diagnosis which first pops in your mind by merely looking at the patient as well as its environment, considering the patient's condition, adaptive and defense resources.
Nurses are in a unique position to improve patient safety because of their inherent proximity to patients. As nurses, we need to be aware of what constitutes a safe environment for specific individuals and for groups of people in the home and community and workplace. Hazards to safety occur at all ages and vary according to the age and development of an individual. Nursing assessment of safety includes assessing factors that can affect safety, e.g. age, lifestyle, mobility, sensory alterations, level of awareness, emotional state, and environmental factors. Measures to ensure the safety of people of all ages focus on (a) observation or prediction of situations that are potentially harmful and (b) client education that empower clients to safeguard themselves and their families from injury. Education is a major health protection strategy in preventing accidents.
Prevention of the spread of infection.
An ounce of prevention is better than a pound of cure.
What comes into your mind when talking about prevention of infection? Of course. The most basic yet the most important - hand washing. Hand washing for hand hygiene is the act of cleaning the hands with or without the use of water or another liquid, or with the use of soap, for the purpose of removing soil, dirt, and/or microorganisms (Wikipedia). And microorganisms are everywhere. Nurses are directly involved in providing a biologically safe environment. We play a critical role in preventing and controlling infectious disease. During our nursing student years, we participate significantly in the prevention process by understanding of the infection process and prevention techniques.
Nurses maintain the immediate health care environment. We provide care for a variety of patients, the risk of contamination from pathogenic microorganisms is increased. The practice of medical asepsis and standard precautions provides the nurse with techniques for destroying or containing pathogens and for preventing contamination to other people or to bedside materials and equipment.
The practice of medical asepsis helps to contain infectious organisms and to maintain an environment free from contamination. The techniques used to maintain medical asepsis include hand washing, gowning and wearing facial masks when appropriate, as well as separating clean from contaminated or potentially contaminated materials and providing information to patients about basic hygienic practices. Appropriate hand washing by the nurse and the patient remains the most important factor in preventing the spread of microorganisms.
Standard precautions combine the major features of universal precautions and body substance isolation. These standard precautions alert the health care worker to patient situations that require special barrier techniques. These barrier techniques are used when working with any patient where potential or actualized contact with blood or body fluid exists.
Universal precautions help control contamination from bloodborne viruses such as human immunodeficiency virus (HIV) and hepatitis viruses. When in contact with a patient's blood or any body secretion that may be contaminated with blood, protective measures such as wearing gloves, gown, facial mask, and/or goggles must be followed.
Kozier, B., Erb, G., Berman, A., & Snyder, S. Safety. Fundamentals of Nursing Seventh Edition, Chapter 30, pp. 669 – 696.